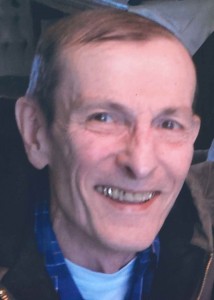 Bruce Frederickson age 69, of New Ulm, MN died on November 19, 2016, at his home.
Visitation will be on Wednesday, November 23, 2016 from 9 to 11am at the Sturm Funeral Home in Sleepy Eye.
Service will be held at the Sturm Funeral Home on Wednesday, November 23, 2016 at 11 am. Luncheon will be held at The Railway prior to burial.
The clergy will be Father Mark Steffl. Interment will be at the New Ulm Catholic Cemetery.
Military honors will be by the New Ulm Honor Guard.
Arrangements are with the Sturm Funeral Home in Sleepy Eye. Online condolences may be left for the family at www.sturmfh.com.
Bruce Charles Frederickson was born on May 11, 1947 in Sleepy Eye, MN, the son of Arden & Annette (Bassett-Frederickson) Johnson. He attended St. Mary's School, graduating in 1965. Bruce entered the U.S. Navy and was honorably discharged, after which he attended and graduated from Mankato State University. He was employed at 3M and retired and later was temporarily employed part-time at K-mart. He enjoyed spending time with his mom and siblings. Bruce loved doing cross-words, and other puzzle books, and going to the casino and playing bingo. He was a favorite with his nieces and nephews because he could talk just like Donald Duck which they loved. He loved fishing and watching the Twins and Vikings, playing cards and scrabble. Bruce was a generous donor to American Red Cross donating 12+ gallons. He was also a member of the Disabled Vets.He is survived by his mother, Annette (Bassett- Frederickson) Johnson of Sleepy Eye, brothers, Jon (Patricia) Frederickson of Scottsdale, AZ, James (Linda) Frederickson of New Ulm, sisters, Brenda (Michael) Walden of Sleepy Eye, Karen (Kenneth) Schaefer of New Ulm, Karolyn "Curly" Marks of Sleepy Eye, nieces, nephews, great nieces, great nephews, aunts, Mary Jane Benson, Donna Skarpohl, Sylvia Chase and many cousins. He was preceded in death by his father, Arden Frederickson, step father, Neil Johnson, grandparents, aunts and uncles.
Share this article