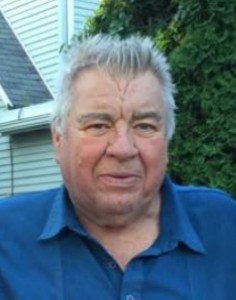 Ronald "Ron" J. Ellevold age 73, of Sleepy Eye died on November 17, 2016, at his home.
Visitation will be on Tuesday from 4 to 8 pm at the Sturm Funeral Home, Sleepy Eye and will continue on Wednesday from 9:30 until 10:30 am at the St. John's Evangelical Lutheran Church, Sleepy Eye.
Service will be held at the St. John's Evangelical Lutheran Church, Sleepy Eye, on Wednesday, November 23, 2016 at 10:30 am.
The clergy will be Pastor Chris Cordes.
Interment will be at the Home Cemetery in Sleepy Eye with Military Honors by the Sleepy Eye Honor Guard. Luncheon will be held at the Serviceman's Club following the interment.
Arrangements are with the Sturm Funeral Home in Sleepy Eye.
On line condolences may be left for the family at www.sturmfh.com.
Ronald Joseph Ellevold was born on November 11, 1943 in New Ulm, MN, the son of Joseph & Lila (Quast) Ellevold. He grew up in Fairfax where he attended school, graduating in 1961. Ron served in the United States Navy from 1961-1964. Ron married Pearl (Netzke) Fromm on September 15, 1968 in New Ulm, MN. He was a police officer in Fairfax, Olivia and Sleepy Eye where he was appointed Chief of Police in 1986. He also worked with the Sleepy Eye Ambulance Service for 16 years. Ron retired in 1998. After retirement he worked at Berdan Plumbing until the present. He was a member of St. John's Evangelical Church. Ron enjoyed hunting, fishing, golfing, yard work and spending time with family and friends.
He is survived by, son, Joe Ellevold of Sleepy Eye, step children, Tim (Lynn) Fromm of Shieldsville, MN, Lorie Tauer, Jeff Fromm, Greg (Brenda) Fromm, all of Sleepy Eye, 13 grandchildren, 7 great grandchildren, sister, Jan Klescewski of Arizona and son-in-law, Steve Hammerschmidt of Redwood Falls. He was preceded in death by his parents, wife, Pearl and step daughter, Becky Hammerschmidt.
Share this article