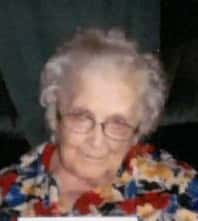 Evelyn E. Rys age 98 of Walnut Grove passed away Tuesday, November 15, 2016 at Prairie View Senior Living in Tracy.  Mass of Christian Burial will be at 11:00 a.m. Saturday, November 19 at St. Paul Catholic Church in Walnut Grove. Visitation for Friday at St. Paul Catholic Church is cancelled.  Visitation will begin at 9:00 a.m. Saturday.   Burial is in Calvary Catholic Cemetery.  Online condolences may be sent at
www.stephensfuneralservice.com
.  Stephens Funeral Service – Walnut Grove Funeral Home is assisting the family with arrangements. 
Evelyn Ernestine Rys was born in Springdale Township, Redwood County, Minnesota to Harry and Marie (Haensel) Starnes on August 31, 1918.  She graduated from Walnut Grove High School as Valedictorian of her class.  Evelyn went on to teacher's training in Tracy and Mankato.  She taught country school in rural Tracy and Walnut Grove.  Evelyn married Frank Rys on December 2, 1944 in Walnut Grove.  She was a member of St. Paul Catholic Church in Walnut Grove where she was involved in many church activities.  Evelyn worked with the pageant in Walnut Grove for many years and enjoyed making scrapbooks, handiwork, and many lap robes for the sick and those in need.  She also enjoyed crocheting, Mission Society quilting, and crossword puzzles. 
Evelyn is survived by her children Kay, Dean, and Susan; and many nieces and nephews.  Preceding her in death were her parents, husband Frank, sister Donna, and son-in-law Cliff Cundy. 
Share this article