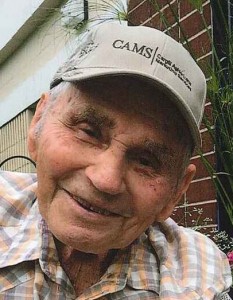 Glen Kronback, age 92 of Lamberton, Minnesota, died Saturday, November 12, 2016, at Valley View Manor in Lamberton.

Visitation will be on Tuesday, November 15, 2016 from 4:00 pm to 7:00 pm at the Sturm Funeral Home, Lamberton Chapel and will continue on Wednesday from 9:30 am until 10:30 am at the Our Savior's Lutheran Church in Lamberton.

Service will be held at the Our Savior's Lutheran Church in Lamberton on Wednesday, November 16, 2016 at 10:30 am.

The clergy will be Pastor Mark Jamison.

Interment will be at the Lamberton City Cemetery.

Arrangements are with the Sturm Funeral Home in Lamberton.

On line condolences may be left for the family at www.sturmfh.com.

Glen Alexander Kronback was born December 21, 1923, to George and Ora (Wilson) Kronback in Redwood County near Lamberton. He was baptized and confirmed in the Lutheran faith at the Revere Lutheran Church. Glen was called home to our Lord Jesus on November 12, 2016, at the age of 92. At age 11, Glen's mother passed away and that same year, Glen was severely injured in a car accident leaving his left side paralyzed. This would not keep him from keeping up with his brothers. He did not see himself as handicapped. With determination he would walk again, do chores, and be a functioning part of his family. Going to help neighbors shear sheep was an accomplishment that gave him the confidence that he could make it as a farmer. Glen married Minnie Hoffrogge on June 4, 1947, at the Revere Lutheran Church. Together they would operate a successful farming operation raising livestock, dairy, and grain. To this union four children were born – Russell, Larry, Nancy, and Janice. Glen was active in his community serving on the Lamberton Township Board, Lamberton Elevator Board, Our Savior's Church Council, and the Lamberton Lions Club. Glen always enjoyed a good conversation and could often be found at the local coffee shop. He always loved farming and was a farmer until the day he died.
Glen is survived by his wife of 69 years Minnie; children- Russell (Doreen) Kronback, Larry (Lee) Kronback, and Nancy (Paul) Knakmuhs of Lamberton, and Janice (Allan) Werner of Sanborn; 13 grandchildren; 24 great-grandchildren; brother Vernon (Ruth) Kronback; and many nieces and nephews. He was preceded in death by his parents; step-mother Ann; brothers- Floyd, Melvin, and Raymond; and sisters- Dorothy (Gilbert) Jensen and Sarah in infancy.
Share this article