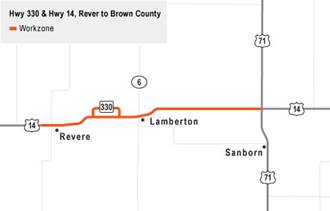 WILLMAR, Minn. –   The Highway 14 resurfacing and Highway 330 overlay projects began Monday, September 19.  The projects will be complete by the end of the day today, November 10.
The Highway 14 project included the resurfacing of Highway 14 from Revere to the Brown County line.  The Highway 330 project included an overlay of Highway 330. Motorists can expected a smoother road and new guardrail.
The Highway 14 and Highway 330 projects are the last two construction projects to be completed in District 8 (southwest Minnesota).  Most projects statewide have wrapped up.
Share this article