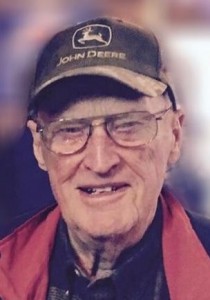 Mornall Oliver Elliot, age 79, of Sacred Heart, Minnesota died surrounded by family, on Saturday, November 5, 2016, at his home in Sacred Heart.   Funeral services will be 11:00 a.m. Thursday, November 9, 2016, at Our Savior's Lutheran Church in Sacred Heart.  The Rev. Dale Svendsen will officiate.  Burial will be in the church cemetery.  Visitation will be Wednesday from 4-7 p.m. and will continue on Thursday one hour prior to the services at the church in Sacred Heart.  Arrangements with Dirks-Blem Funeral Service, Renville, MN.
Mornall Oliver Elliot was born on August 31, 1937, on the family farm south of Sacred Heart, Minnesota to Oliver Turnbull and Hazel Margaret (Golie) Elliot.  He grew up on the family farm and was baptized and confirmed at Our Savior's Lutheran Church.  Mornie graduated from Sacred Heart High School in 1955.   He served his country in the United States Air National Guard, and was stationed in Fargo, ND.  Mornie was united in marriage to Evelyn Martha Hardy on January 20, 1962, at Hawk Creek Lutheran Church.  He farmed for many years and was active in many farming associations.  In the past, he served on the school board, church council, and served as township rep to the Sacred Heart Fire Department for 34 years.  He currently was serving as a Sacred Heart Township board member.  Mornie was also a member of the Masonic Lodge and the Shriners.  He was a faithful life-long member of Our Savior's Lutheran Church and was a strong advocate supporting his local community.  Mornie also worked the U.S. Postal Service as a rural mail carrier.  He also enjoyed helping at the local mortuary, giving him an opportunity to socialize with his many friends, and to serve others during a difficult time.  By far, his favorite hobby was his family, he loved being involved in the lives of his children and grandchildren, and enjoyed their many activities.
Survivors include his wife of 54 years, Evie; his children:  Daniel (and Beth) Elliot of Sacred Heart, and Marie (and Erik) Hoff also of Sacred Heart; his seven grandchildren:  Morgan (and Nick) Lecy, Molly and Dana Elliot, Megan, Sarah, Erika, and Caleb Hoff; his siblings:  Mary Olafson, Joyce Wolff, Marlys Haug, and Arch (and Donna) Elliot; his sister-in-law Betty Elliot, and many nieces, nephews, and other relatives and friends.  He was preceded in death by his parents, his brother John, and his brothers-in-law: Raymond Olafson, Delwood Wolff, and Orion Haug.
Blessed Be His Memory
Share this article