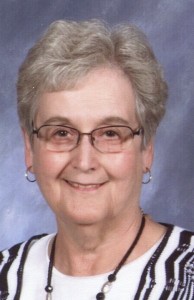 Mary Ann Clouse, age 80, of Bird Island died Saturday, November 5, 2016 at Harmony River Living Center in Hutchinson. Mass of Christian Burial is Thursday, November 10th at 1:15 p.m. at St. Mary's Catholic Church in Bird Island with Rev. George Schmit as celebrant. Burial is in the church cemetery. Visitation is Wednesday 4-7 p.m. at Dirks-Blem Funeral Home in Bird Island and continues Thursday there from 12:00 noon to 1:00 p.m. Memorials are preferred to Allina Health Hospice.
Mary Ann Clouse was born March 13, 1936 at Minneapolis, MN, to William P. and Sylvania A. (Weis) Cully. She graduated from St. Mary's High School in Bird Island. Mary Ann married Charles Joseph Clouse on October 23, 1954 at St. Mary's Catholic Church in Bird Island and they were blessed with eight children. Mary Ann was employed as a  Human Service Outreach Worker with Heartland Community Action Agency for 25 years, Central MN Jobs and Training for four years, and Renville-Redwood County Red Cross for one year. She was a faithful member of St. Mary's Catholic Church where she was active in the  CCW and Church Council, and as an Eucharistic Minister, lector, choir member, and CCD Teacher. She was also was a member of the American Legion Auxiliary. Mary Ann had enjoyed reading, ceramics, baking and cooking. Mary Ann has been a residence of Harmony River Living Center since March of 2016.
Mary Ann is survived by her children: Patricia Nelson of Springfield, MO, Julie (Tim) Rauenhorst of Hutchinson,  Susan (Jim) Sannan of Bloomington, Jeffrey (Sheryl) Clouse of Eagan, John (Charlene) Clouse of Mayer, Bill (Katie) Clouse of Eau Claire, WI, Kevin (Jean) Clouse of Olivia, Jill (Craig) Carlson of Hector; her brothers: William (Hazel) Cully, Robert (LeAnne) Cully, and Douglas (Lyndis) Cully; her sisters: Audrey Perske, Donna Culley, and Darlene (Sherwood) Dummer; her 20 grandchildren; and 17 great-grandchildren. Mary Ann was preceded in death by her parents William Cully and  Sylvania Cully Swoboda; her husband C. Joseph Clouse in 1999; her brother Francis Cully; her sisters: Beatrice Ahl and Patricia Morrow; her stepfather Stanley Swoboda; and her granddaughter Katie Nelson.
Blessed Be Her Memory
Share this article