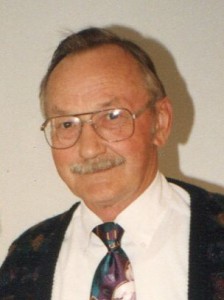 Roger T. Agre of Glenwood, MN, passed away surrounded by his family on Tuesday, November 1, 2016, at the Douglas County Hospital in Alexandria at the age of 81.   Funeral services will be Monday, November 7, 2016, at 1:00 p.m. at First Lutheran Church in Renville.  Burial will be in Fairview Cemetery in Renville.  Visitation will be Sunday evening from 5-7 p.m. and will continue on Monday one hour prior to the services all at the church in Renville.   Arrangements with Dirks-Blem Funeral Service, Renville, MN.
Roger T. Agre was born on July 10, 1935, in Olivia, Minnesota to Tollef and Mable (Westby) Agre. He attended Renville Public School where he enjoyed playing basketball and graduated in 1954. Following graduation, Roger enlisted in the U.S. Army where he was stationed in England and Germany. Roger was united in marriage to Frances Berends on September 20, 1958, at First Lutheran Church in Renville, MN. They made their home in St. Paul Park, MN where they raised their six children. He was a member of the St. Paul Park Legion Post 98 where he served as Chef de Gare for the voyagers 40 and 8. He was Scout Master for his two sons Boy Scout Troops, and was also the coach of their little league baseball teams. Roger was employed as a carpenter by the Rauenhorst Corporation, until his retirement in 1998.  Roger's hobbies included hunting, fishing, and bird watching. He also enjoyed attending his grandchildren's sporting events, from hockey in Wisconsin to traveling across Minnesota to attend Gymnastic Meets, Baseball, Basketball, and Volleyball games. Family was important to him and he enjoyed visits at the lake from his many nieces, nephews, and family members. Roger resided in Glenwood, MN for the past sixteen years on Maple Lake where he built their lake home. Roger fought his battle with cancer for the past 17 years.
Survivors include his wife Frances, their six children: Kristy (and Fred) Dorn of Newport, Doug (and Mary) Agre of Newport, Tim (and Deb) Agre of Independence, Alison (and Scott) Syverson of Wyoming, Stacy (and Dave) Zaske of Renville, and Tracy (and Jerry) Krogh of Woodbury; 14 grandchildren and 9 great grandchildren, his brother Larry (and Janet) Agre of Brandon, SD; and many other relatives and friends. He was preceded in death by his parents, 3 sisters, and 1 brother.
Blessed Be His Memory
Share this article