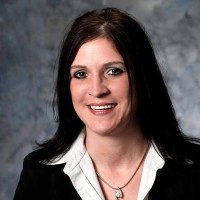 I was born and raised in Springfield MN. My parents are Rich and Barb Dauer of Springfield. I graduated from Springfield Public High School and went to Ridgewater College in Willmar MN. I worked at Jackpot Junction Casino Hotel and VFW in Redwood Falls. I moved to Redwood Falls in October 1998.
I married Darwin Anderson on September 15, 2001. That was quite the experience as you all know this was 4 days after 9-11, so we didn't know what to expect or if we would have a place to have a reception due to the Armory may have to be used to deploy troops. There were a lot of other things that didn't go as plan but it all went off just fine! We divorced in 2011.
I am now engaged to Justin Lipinski who is originally from Ivanhoe, MN. He currently works on the road working on wind turbines and cell towers. So lucky for me I get to see a lot of different states. Traveling now is one of my favorite things to do! Our wedding is planned for June 14, 2014 in Redwood Falls.
I started working at KLGR Radio October 15, 2001. I absolutely love what I do. I'm an Account Manager and cover part of Redwood Falls, Franklin, Fairfax, Bird Island, Olivia, Danube, Renville, Sacred Heart, Willmar, Granite Falls, Echo, Wood Lake and Belview. I enjoy my clients and learning about all the different business. I've earned the accreditation for Certified Radio Marketing Consultant, CoLearn The Center for Online Learning and Radio Advertising Bureau.
Our first daughter Taylor Lynn was born March 22, 2000 with some health conditions and we spent 222 days at the U of M in the cities. We lost her on April 22, 2001. She is our little Angel and dearly missed.
On August 27, 2003 our second daughter Rachel Taylor was born. She is my pride and joy since she reminds me of myself. My parents always told me that I would have one just like me and I sure got her! YIKES!!!
Derek Heath was born on December 13, 2007 and he is definitely my sweetheart. He's just a charmer and loves every minute of it!
I love to watch football…specially the MN Vikings, hang out with my family and friends. I enjoy snowmobiling (Arctic Cat of course) during the winter or hitting a warm spot for vacation. I have to say Cabo San Lucas is the best so far. Summers love going to my friends camping at the lake or my friend's pool. Just to be outside is relaxing to me.
Of course there's so much more about me but I hate to bore you!