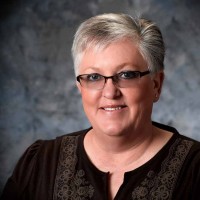 I have been a resident of southwest Minnesota since 1972. My family moved to Fairfax when I was in sixth grade. The last quarter of my sophomore year in high school, my parents moved us to Lucan. I am a Wabasso High School graduate. I attended Mankato State University for one year then decided to transfer to Granite Falls AVTI. I graduated from the Professional Sales program.
I moved to Redwood Falls in 1982 and started my career in sales. I was a salesperson at the local Ford dealership for 20 years. I then sold insurance for 2 years. I started as an account manager at KLGR in March of 2004. I guess you can see that I have been in sales all of my "adult life".
I met my husband Jim at a country music festival in 1996. He is from Central Minnesota and decided to make the move to Redwood Falls in 1997. We were married September 19th, 1998.
In my free time I enjoy relaxing at the lake in the summer, when we close up the camper, it is deer hunting time. Then, I wait for it to snow! Sorry, yes I did say snow! We also enjoy snowmobiling when we get a chance. Most of the time they become lawn ornaments!